Dr Gerard Flaherty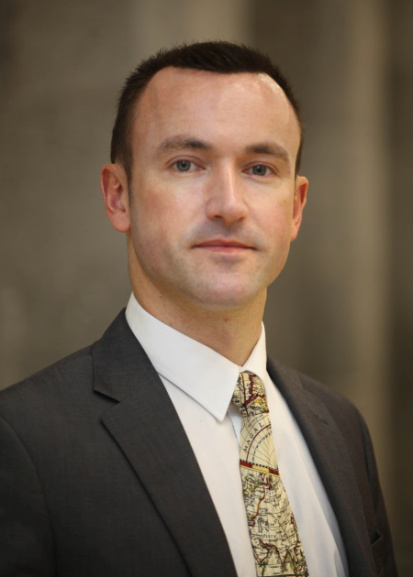 Dr. Gerard Flaherty hails from Athenry in the west of Ireland. He graduated from the National University of Ireland, Galway, in 2000 with a first class honours degree and gold medals in each of the 8 final year subjects. As an undergraduate, Gerard gained an intercalated BSc degree in Anatomy and received numerous international academic distinctions, including the Duke Elder Prizer in Ophthalmology from the Royal College of Ophthalmology (UK), and the Annual Undergraduate Prize of the Faculty of Radiology (UK). He gained Membership of the Royal College of Physicians of Ireland in 2002 and Fellowship in 2011. He holds a Diploma in Travel Medicine from the RCPSG (Glasgow). He has completed 3 Masters degrees, including a Masters in International and Travel Health (Sheffield) and Masters in Medical Education (Dundee). His doctoral thesis from NUI Galway was based on his original research in travel medicine.
He is a Fellow, examiner, former board member and education convenor of the Faculty of Travel Medicine at the Royal College of Physicians and Surgeons of Glasgow. He was also the recipient of the Cameron Lockie Prize for Travel Medicine in the UK and the Donald MacLeod medal in Sports Medicine, which was presented to him by The Princess Royal. He is Immediate Past President and current Research Officer of the Travel Medicine Society of Ireland, he was Chair of the Northern European Conference on Travel Medicine (NECTM) 2012 scientific committee which the Travel Medicine Society of Ireland hosted in Dublin, and Vice-Chair of the NECTM 2014 scientific committee in Norway. He also serves on the international scientific committee for the 2015 NECTM and 2016 RCISTM conferences in London and South Africa, respectively. He was elected to the Executive Board of the International Society of Travel Medicine in 2014. He is also a member of the Asia Pacific Travel Health Society. He holds an Adjunct Professorship in Travel Medicine and International Health with the International Medical University in Malaysia. Gerard's research interests in travel medicine include high altitude medicine, space flight participation, travellers with pre-existing medical conditions, and education in travel health. He has 12 years of clinical experience in travel medicine.
Gerard's current academic position as Senior Lecturer in Clinical Medicine and Medical Education at NUI Galway, former Director of Clinical Studies and current Director of International Affairs for the School of Medicine gives him responsibility for design, delivery and assessment of many components of the undergraduate curriculum, including the special study module programme. He is also a Past Chair of the Curriculum Review Committee and sits on numerous committees at school and university levels, including the examination appeals committee. He received a President's Award from NUI Galway for Teaching Excellence in 2008. He has been awarded Fellowship of the Academy of Medical Educators (UK). He has over 100 publications and research presentations to date, including a textbook, and 3 textbook chapters. He serves on the editorial board of the journals Travel Medicine and Infectious Disease, International Journal of Travel Medicine and Global Health, and the Brazilian Journal of Medicine and Human Health.
Gerard has worked with Croí, the West of Ireland Cardiac Foundation, for many years as a volunteer expedition physician on fundraising high altitude treks to Nepal and Kenya. He is currently their Honorary Academic Director and was instrumental in establishing the National Institute for Preventive Cardiology on whose Advisory Council he serves. In addition to acting as Founder and Programme Director for the Masters in Preventive Cardiology programme at NUI Galway, Gerard is responsible for the medical management and supervision of participants enrolled on the Croí MyAction preventive cardiology programme. In his leisure time Gerard travels, golfs, walks in forests, climbs mountains, and bird-watches. He is currently enjoying a Diploma course in Avian Studies, having been awarded Certificates in Ornithology and in Bird Behaviour. He is fluent in English and Gaelic, and speaks French and German poorly!